Certificate vendors in Scrip Manager are the suppliers from which you buy your gift certificates. Every certificate must be associated with a vendor and is selected in each certificate's profile. Vendors in Scrip Manager are critical in grouping your certificates throughout the software and in creating purchase orders that then used to add certificates to your inventory.
Scrip Manager has three (3) pre-configured vendors. These vendors located in the 'Main Software Vendors' table are The Manna Group, Great Lakes Scrip, and Direct Order. You may add additional vendors as needed and these will appear in the 'Your Vendors' table. Each vendor has a status of either Active or Disabled. Only Active vendors will available throughout Scrip Manager.
To manage vendors, simply follow the steps given below.
Adding Vendors
1. Navigate to Certificates -> Vendors.

2. The Vendors page will be displayed. To add a new vendor, click the Add Vendor button to the right of the screen between the 'Main Software Vendors' and 'Your Vendors' tables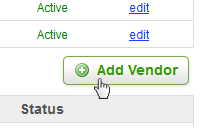 3. The Add Vendor page will be displayed. Enter the full name of the vendor in the Name text entry box, an abbreviated name is used in the administration interface only in the Abbreviated Name text entry box, and the default shipping in the Default Shipping text entry box (enter 0 if no shipping costs). If Duplicate Certs on PO is enabled, a certificate may be added to a purchase order multiple times. Select the Status to 'Active'.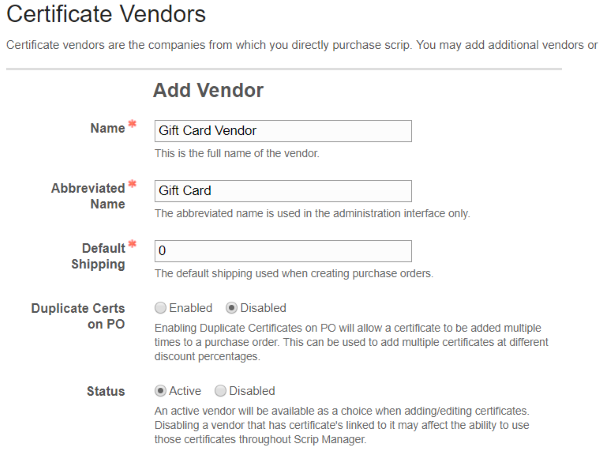 The vendor profile also contains the vendor details such as their address, phone/fax number and a notes field. Additionally the billing and shipping fields may be completed. The shipping and billing information is displayed on the printable purchase orders.
When finished click Save Settings to add the vendor.
Edit Vendor
1. To edit a vendor, click the edit link in its row. Make the necessary changes on the edit page and click Save Settings.
Delete Vendor
You may only delete vendors that you have added in the 'Your Vendors' table. Main software vendors cannot be deleted only disabled.
1. To delete a user group, click the delete link in that vendor's row. Confirm the deletion in the Confirm message box by clicking the Yes, Delete button.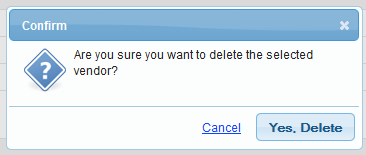 2. To disable a vendor, click edit link in its row. Select disabled in the status field and click Save Settings.