The fiscal calendar allows data within Scrip Manager to be grouped for presentation, reporting or credit calculations. Year to date (YTD) repoting functionality used the current fiscal year to calcuate and display credit and ordering totals. If the 'Threhold' addon is enabled, threshold limits are calcuated using the current fiscal year.
Add Fiscal Year
1. Navigate to Settings->Calendar.

2. The Calendar page will be displayed. In the Fiscal Calendar section, click the Add Year button.
3. The Add Year page will be displayed. Enter the Start Date of the year and click the Save Year button.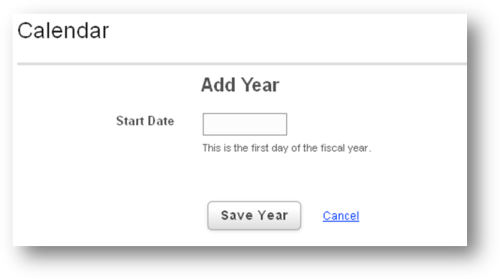 Edit Fiscal Year
1. To edit a fiscal year start date, click the edit link in its row. Make the necessary changes on the edit page and click save. NOTE: Fiscal Years cannot be deleted.
Delete Fiscal Year
Fiscal Years cannot be delete.